Bridal Hair & Makeup FAQ
You said "Yes!", and here you are! This time in your life is quite exciting and I hope you are having a wonderful time planning your wedding.  If not, I hope you have a lot of wine!  My goal is to make this part as smooth and as hassle free as possible. Bridal Hair & Makeup is one of the most important aspects of your wedding day ensemble, and I would be honored to work with you in creating that perfect look.
With over 5,000 weddings under our belt and 15 years helping brides like you feel your absolute best on your wedding day.  I hope you find my Bridal Frequently asked question guide helpful.  If you need anything, please feel free to reach out.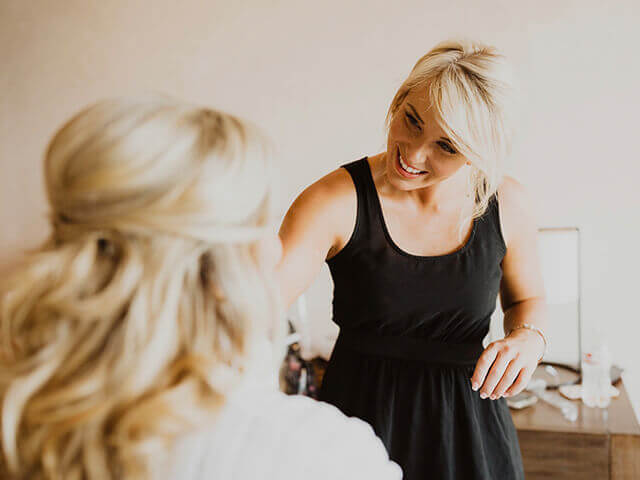 ~To get you started, here are some of my most frequently asked questions .
-Can you accommodate large wedding parties?
I have a team of highly trained and certified stylist so we are able to accommodate larger parties and also create a more enjoyable experience for you and your favorite gals! Each artist has their own unique skill set and style secrets. We pride ourselves on having the ability to whip up diverse, unique styles that are customizable to each client that sits in our chair.
-What makeup brands do you use?
-I use a wide range of products from many different brands. I do not solely use one Makeup brand company as I believe each company has a distinct product that they pride themselves on or that I find to favor in most companies. Only high quality and high performing products are in my kit to ensure your makeup is flawless on camera. All products are tested for performance prior to making it into my collection. Please contact me with any questions regarding allergies in your party.
-Do you require a deposit?
-Yes, I require a deposit of $150, and a signed contract to hold your wedding date. This is due on the date of your trial, or when ready to book and is then put towards your total invoice.
-I'm a bit nervous about booking right away. Can I book my trial and give a deposit at a later date?
-Due to high demand we are unable to reserve your date past your trial without a deposit. I often have 3-5 inquiries per wedding dates during prime wedding season and highly recommend deciding that day to ensure you are able to book with me.
-How far do you travel?
-As far as you need me! My travel fee is based on location and distance.
-How soon in advanced should I book my makeup services?
-I start booking a year and a half in advanced so the sooner, the better!
-Will I be your only event on the day of my wedding?
-Due to extremely high volume of clients there may be other appointments on your wedding day. If you have booked already and paid your deposit I personally will be there every step of your journey including trial run and the day of. However, if I'm booked that day I will let you know ahead of time and will set you up with my team of highly specialized bridal artist.  If you have scheduled to have on-location services and/or have booked on-site services after the ceremony you will be my main priority throughout the day.
-How will the Hair & Makeup Schedule go on the day of?  
Unless specified, I do not typically do day of timelines.  You will have a set start time which will be determined by the amount of services needed, photographer arrival time for "getting ready" pics and departure time.  If you have multiple people in your bridal party getting services done I ask that everyone arrive at the set start time and come prepared with day old dry hair for styling and a fresh face for makeup.  The reason I do not do time slots is because everyones hair type and desired style will be different.  I like to have everyone there and ready so things go smoothly on both ends.
Will my makeup last all night? What if I cry?
-Absolutely. A true professional makeup application will last the full duration of your event. Not only are the eyes and skin prepared with the proper skin care and priming products, but you will be set and finished with professional powders and sprays that seal in and help fix the makeup in place. All the products in between the prepping and sealing are chosen for their longevity and high performance in all tear/sweat and weather conditions.
I look forward to working with you and if you need anything at all, give me a shout!
Xx,
Tanya
720-238-7969